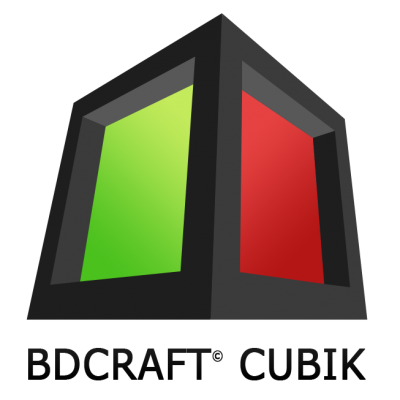 BDcraft Cubik
Easy 3D Modeler for Voxel Artists
BDcraft Cubik is a 3D software for Windows (XP, Vista, 7, 8). It allows everyone to design 3D Meshes with a bunch of Cubes and Planes. Cubik is very easy to use and can export 3D Models for Minecraft (as Blocks, Items or World) as well as common 3D formats like .OBJ and .X3D! It can also import Minecraft Models, Voxelize OBJ, DXF or WRL and have many cool features to ease the work on the Mesh.
Everything is designed for very fast&easy work.
BDcraft Cubik is dedicated to Artists who need an easy&fast software to create Voxel like 3D Models and export it directly in Games format or common 3D Formats.
Story of Pirates
Cubik has been released in March 2014 and was very welcomed by the Minecraft Community and some Indie Games Developers. So much welcomed that 3 days later, it was already available on most Pirate/Torrent websites!
The very first version didn't have any DRM, protection or registration system of any kind. Because I trust my users and the Community, I though that no one would be dumb enough to upload its own paid version online… The dumb person was me.
Cubik now have a strong Registration system but nothing too annoying for people with an Internet Connection. I hate DRM systems but those could be necessary only if it never becomes a problem for honest users.
Story of Birth
Cubik has already been updated more than 5th times with Major and Minor updates. Over the versions, many new cool features have been added, even ones I didn't though I would be able to make alive…
Cubik was not meant to become a real software but a simple tool. I initially made it for my personal use while developing the PureBDcraft ResourcePack (see my other projects for details). But because the software became more and more useful, I though it would be nice to share it with others. That's how Cubik LITE is born.
While adding features and spending many time on those, I though a PRO version could be available aswell. This special version would get all new – non vital but awesome – features that Cubik LITE would not. That's how Cubik PRO is born.
This video shows how to export a 3D mesh made with Blender to Wavefront OBJ format, to import this OBJ in Cubik via Voxelization, modify and texture the Model and finally export to a custom Crafting Table!
Everything in less than 10 minutes!
Cubik PRO 0.70 required to use following features:
– import OBJ (Voxelized)
– Modify textures in Material Manager
– Export to JSON Format
– Customize the Blockstate file for the « Crafting Table » Block thanks to the « Blocks Helper » Tool