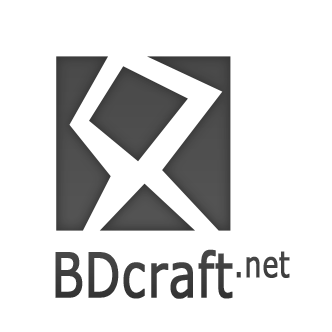 BDcraft.net
Community of Gamers, Artists and Modders
BDcraft has been initially created to bring together the community of players enjoying the work done on PureBDcraft. The community has quickly grown and is now not limited to Minecraft Players or textures. BDcraft.net became a real portal for original creations to enhance games with new HD Textures, enhanced Sounds, original Musics and handy tools.
The BDcraft community consists of players, artists, modders and Indiegame developers. Some of the users create their own textures for patches, some others make tutorials on Photoshop or Illustrator, some use the BDcraft tools (like Cubik) and others give ideas, report bugs or ask for help. However, all of them enjoy the unique look&feel of the BDcraft content.
All textures on BDcraft.net are limited to personal use. However, two exceptions exist:
Videos (on YouTube for example): The video creators have permission to use the original textures and modify them for their videos, provided that the result is not redistributed.
Patches: Creators of patches have permission to retrieve and edit the original textures and make a pack, provided that it contains no original texture (without modification).
Story of Partners
To make BDcraft.net possible I needed support. We can't do everything by ourself all the time. Since some years, BDcraft.net works thanks to several awesome partners.
Initially, all the downloadable files where hosted on the same server as the website. That was a big mistake: when too many people downloaded files, the server was busy and BDcraft.net resulted in an error 500. CreeperHost (specialized in Games Server Hosting) were kind enough to help. Most of the downloadable files from BDcraft are now hosted on CreeperHost servers. It allows fast downloads and stability for BDcraft.net.
Being a true fan of Indiegames, I started playing Delver. I then decided to port my textures and make new ones for this game. I was in contact with Chad (developer of Delver) and we dediced to build a partnership. Delver is now an official partner of BDcraft and « PureBDcraft for Delver » has been released in November 2013.
In March 2013, I was in contact with the webmaster of one of the biggest website dedicated to the french Minecraft Community (Minecraft-France). Shortly after, we decided to become partners.
In September 2012, I discussed a lot with the webmaster of the biggest website dedicated to the whole Minecraft Community (PlanetMinecraft). We finally decided to become partners.