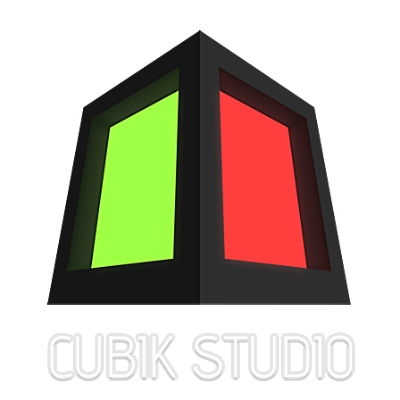 Cubik Studio
Advanced 3D Modeler for lowpoly and voxel games
Cubik Studio is a 3D modeler for games with graphics composed of boxes and/or voxels. It supports games and game engines and is designed to be fast to use.
The very first version of Cubik (Cubik Pro) has been released the 1st April 2014 and was the very first 3D modeler for Minecraft 3D Model JSON format. Facing the number of users – pro and hobbyist – Cubik grew up quickly bringing ton of new features (always for free, without any paid DLC).
Cubik Studio has been released the 1st November 2016, after 1 year of development, rebuilt from scratch and bringing crazy new features for beginners and advanced users. Cubik Studio is an advanced 3D modeling tool for Minecraft, Stonehearth, Staxel as well as Unity and UnrealEngine.
Various formats
Cubik Studio can import and export MANY file formats, here is a list (can be incomplete because of new updates):
Load/Save

.cubik

: Cubik format
Import/Export

.json

: Minecraft blocks and items
Import

.mcpe

: Minecraft Bedrock for entities
Export

.js

: Minecraft Bedrock for entities
Export

.jpm

: Minecraft Java Optifine entities
Export

.java

: Minecraft Java Mod class
Export

.zip

: Minecraft ResourcePack
Export

.stonehearth

: Stonehearth files
Export

.staxel

: Staxel files
Import/Export

.obj

: 3D model composed of polygons
Export

.stl

: 3D model for 3D printing
Import/Export

.png

: Render or Extrusion
Export

.binvox

: Voxels
Export

.csv

: Voxels
Import/Export

.qb

: Qubicle binary
Import/Export

.qef

: Qubicle exchange
Import/Export

.schematic

: MCEdit map
Import

.nbt

: Minecraft world structures
Import/Export

.vox

: Magicavoxel
Import/Export

.zox

: Zoxel editor
Testimonials
Sean (mooTV) McCafferty - Hypixel Content Manager
« Hypixel has hundreds of 3D models and creating and maintaining them requires robust tools. Without Cubik, we could not produce quality content quickly enough. »
Chekaviah - Epicube Administrator
« Cubik brings an incredible comfort to the creation of 3D models. It is now a must have for all passionates who want to Mod games like Minecraft! »
Fanta - FantaBobWorld
« Cubik is an essential tool for the craziest 3D creations. Makes a huge difference in a world of cubes! Thank you to the devs! »
This video is the official trailer for Cubik Studio, launched the 1st November 2016!
It contains various references to work done with Cubik for various Minecraft servers and Indie-games!
Cubik Studio is able to:
– Deal with cuboids (resizable boxes, also called « elements »)
– Mix voxels (3D pixels)
– Add primitives (such as pyramids, torus, cylinders, …)
– Include any 3D model
– Export the result in many differents formats