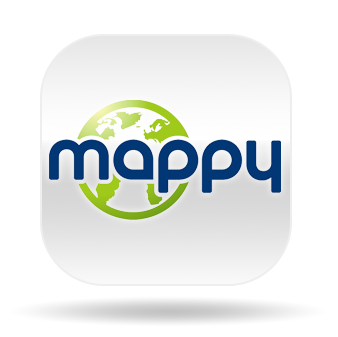 Mappy Apps
First Free Mobile Application for Maps and Routes in France, available on iOS and Android
Mappy is a french service of mapping and location-based information on web and mobile. Mappy also develops applications on web and mobile of « travel assistance »: search of maps, addresses, points of interests (POI) and routes, navigation solutions for mobile and related services (such as Hotels Booking, Car sharing, weather, etc.)
Some interesting dates while I was in charge of Mappy Mobile Apps as Technical Project Manager:
2009: Mappy is released on iPhone (First version of Mappy as a Native Application)
2010: Mappy is ported on Android
2010: Standard Mappy services are available on HP ePrinterCenter
2011: Mappy is now available on iPad
2011: Mappy is now available as a Free SDK for Developers (iOS and Android)
millions Visits /month on Mappy.com
Supported OS as Native App
Story of a Project Manager
I started working at Mappy SA as a Technical Project Manager the 1st February 2010. I was in charge of various projects using Location Based Services on mobiles (iPhone and Androïd) and new media (iPad, Connected Printers, …). Please note that at this time, the iPad was considered a new media.
The main projects I participated in was « Mappy » on iPhone, iPad and Android,  « Mappy for HP ePrinterCenter » (the first Connected Printers) and « Mappy SDK » for iOS and Android (the first SDK developed internally by Mappy). I established plannings, participated in time&budget estimations, helped to realize the Marketing needs and ideas, wrote technical proposals and specifications, discussed technical solutions and synchronized all involved teams during the development, testing and installation in the production environment.
Multi-Pass
Alongside my role of Project Manager, I had the responsibility of the mobile development team (composed of 2 Android Developers and 2 iOS Developers) for one Year (my last one at Mappy). My main tasks was the speed meetings, the development planning and their annual assessment interview.
As the technical responsible of the Mappy SDK, I was in charge of the technical follow-up of its users (B2C and B2B). I worked with PagesJaunes (Solocal Group) to integrate the Mappy services in their own Mobile Application (PageJaunes).
Knowing I came from the Business Development Department of Mappy, I was also a Pre-sales engineer for key account clients and partners such as SFR and Orange.
Mappy has been a great experience which required many skills.
This video is a demo of a classic use of Mappy for iPhone and Android.
It shows how to find an address on a map, get a list of hotels (or any other point of interest), calculate a route and display the road-map. The app also contains a feature to show a « 360° » view, a service built and integrated internally by Mappy (similar to Streetview).
The video is recorded on an iPhone emulator and is made by Mappy.